I Had to get run over by a truck to make it happen!
For a long time people had been saying to me that I should take my years of management experience, couple it with the knowledge I gained as the pastor of churches in New York and Florida, and start a teaching ministry to instruct and encourage Christians concerning the challenges to faith and ethics they face in the workplace daily ~ a real need!
It sounded like a great idea to me. I did indeed have a great deal of experience in business. As a young man, I had worked in New York City as a consultant specializing in communications. My clients included some of the largest and best known companies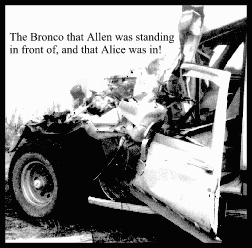 in the world: General Electric, the Boeing Aircraft company, and Cunnard Shipping Lines, among others. Later, I owned a number of companies, including an advertising agency and a professional consulting company. Once again, in addition to serving many small companies, my staff and I had the opportunity to serve large corporations such as Mercedes-Benz of North America, Mobil Oil, the New York Medical College, and the northeastern based John Wannamaker chain of fine stores. During those years, we also provided consulting services to a Mid-Eastern government through one of our other clients.
After a life-changing experience with Jesus Christ, I left that behind to study for and enter the ministry. While serving as the pastor of congregations in a New York City suburb and later in Central Florida, I conducted a teaching ministry on both secular and Christian radio stations entitled, Yesterday, Today and Forever. For some ten years that broadcast was heard in the U.S. and throughout the Caribbean Basin.
While I often thought about, and prayed concerning, the idea of a ministry geared towards helping Christians find success in the marketplace, not in spite of their adherence to Biblical principles, but because of it, I still did not feel God's leading in that direction.
In the late 1980's, my wife Alice and I moved to Central America to do missionary work in the bush. While there, I was run over by a speeding truck one night when we stopped to help somebody alongside the road. It was a terrible accident! The two fellows in the truck that hit me were killed on the spot. Doctors in the stateside hospitals where I was later transported for multiple operations stated that my massive injuries should have taken my life. They continually declared that, "It was a miracle!" I continually declared, "I know!" After progressing from bedridden to wheelchair to crutches to cane, we returned to Central America and lived there for another year and a half. It was however, necessary for us to leave the bush. Dragging a bum knee through the jungle with a machete in one hand and a cane in the other just didn't work.
After moving into the country's only large city, circumstances created a situation where I was asked to do consulting work for their national government. That provided an opportunity to share the Gospel with many of the highest government leaders and some of the most prominent business people there! When that work was finished, Alice and I decided, with much prayer, that it was time for us to return to the U.S.
The accident had left us with very few resources. Our finances were depleted from the expenses we incurred, and almost everything we owned of any value had been stolen in Central America while I was in the hospital in the U.S.! We moved to South Florida, and I started a small consulting firm. We were told that the economy was terrible, times were bad, and we were undercapitalized in an area where we knew nobody and had no contacts. Undaunted, we set out to conduct business in a way that would gain us clients, and make our clients our friends; in a way that would please and glorify the Lord. In less than a year, we were turning away business!
A very important facet of our Christian fellowship during that time was getting together with Randy and Ellen Drake, even thought they lived two hundred and fifty miles from us. Randy had served as an elder and the treasurer of the church that I had pastored in central Florida, and I valued his insight, and his spiritual maturity. He and Ellen were both successful in the business world and published authors in the medical field. While together one weekend, we were discussing how the book of Proverbs applied in every day business life. Everything finally came together (including God's leading!) and the M.D. Solomon Institute was born.
Now we are conducting seminars and workshops that are changing lives. We present an in-depth look at Biblically based leadership and management techniques along with skills needed to deal with others successfully in any relationship. The purpose of this seminar is to assist the local Church to equip, strengthen and encourage Christians to find real victory in their everyday life.
---
Read "The Master's Call" — the story and testimony of this accident